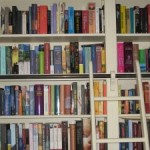 Need a new fiction series to read?
Check out the Teen's Top 20 Fiction Series @ Your Library® display and start a new journey today! Take a Maximum Ride, be a Warrior or join in on the Hunger Games. Whichever journey you choose, you can always count on there being more than one!
Can't find the book you're looking for? Search the Catalog & place a reserve or ask a Librarian for help.  It's that easy!