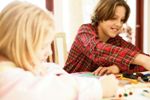 Did you know that March is National Craft Month? Kids and families, explore your creative side through crafts. Drop by the Library to find books on some fun ways to celebrate National Craft Month in March and all year long. The Library has a large collection of materials on all types of crafting projects, including knitting, beading, ceramics, mosaics, pet crafts, origami and lots more.
Did you know that many of our Children's story times and other programs include craft projects?  Register your child for one of these great independent programs or register your child or grandchild for one of our programs with caregivers to get crafty together.
Don't forget to keep crafting with your family all year long. It's fun, it's creative, and it will bring you closer together.
Also, check out these great craft websites for kids and families: