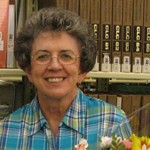 Almost all employees, from every library in Suffolk County are eligible to be nominated. Of the many who were nominated, the Suffolk County Library Association selected our own Christine Keeley to win this prestigious award!
It would be impossible to overstate her importance to our Library. She was hired prior to the Library's opening and is literally the person on whom we have built our foundation. She served as the first Head of Circulation and now as an Administrative Assistant, she is in charge of all clerical functions in Technical Services and is responsible for review of all bills and payroll functions.
She CARES that every single detail is handled properly, on time and to the highest standards. She radiates this care and concern and makes us all better, as we try to emulate her example.