Check out One Times Square: A Century of Change at the Crossroads of the World by Joe McKendry.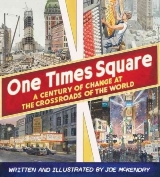 This fascinating history of "The Crossroads of the World"—the junction of Seventh Avenue and Broadway in New York City, takes readers back more than a century to the early 1800s then moves forward in time to the present day and beyond. The area known for its hustle and bustle and theatergoers was once rural farmland owned by Medcef Eden, and now-glitzy Broadway was nothing but a dirt path. The name "Times Square" was coined on April 19, 1904, the same year the new headquarters of the New York Times, or One Times Square went up. Like Times Square itself, this book is pure visual stimulation, as the pages brim with sidebars, cross sections, maps, and even a diagram of the infamous New Year's Eve ball.
Reserve your copy today or ask a Librarian for help. It's that easy!