Winter Reading Club Finale: Life-Sized Candy Land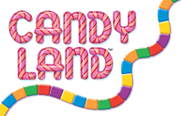 Saturday, March 10, 11-11:45 am OR 12-12:45 pm WBJ20
children up to grade 5 with caregiver
All Winter Reading Club participants are invited to climb inside the Candy Land board game and travel through Lollipop Woods, Peppermint Forest, Chocolate Swamp and more! Collect goodies (edible and non-edible) along the way, as your family works together to play the game and reach King Candy! Face painting, crafts, balloons and more! Choose only one session. Phone or in-person registration for Winter Reading Club participants is underway.