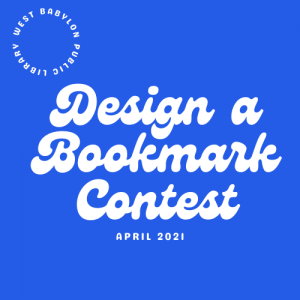 April 1–30
We're celebrating National Library Week all month long with a bookmark contest! Children in grades PreK–Grade 5 are invited to design their very own bookmark. Winners will be selected at the end of the month and will be displayed at the Children's Reference desk and in our Newsletter! Be creative & have fun! Bookmark template kits can be picked up starting Thursday, April 1 in the Children's Room or downloaded here.
Drop off completed Bookmarks to the Children's Room by April 30, 2021.
West Babylon School District Residents Only.