Play, Learn and Grow Together @ Your Family Place Library
The West Babylon Public Library Family Place area is a welcoming, fun environment where you and your young child can read, play and learn. This specially designed space features materials for children and parents including board books, picture books, toys, puzzles, blocks, and more, all creating opportunities for little ones to explore. As your child's first and most important teacher, these activities will help you build your child's early literacy skills. We also invite you to register to attend one of our developmentally appropriate programs for young children and their parents, including our new Parent Child Workshop with hands-on activities and access to resource professionals.
New Library Card Welcome Gift
Children starting from birth can get their own Library card!
Stop by the Children's Room after getting your very own Library card for a Welcome Gift and get your picture taken!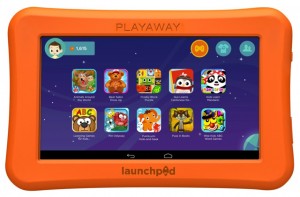 Blast Off with Launchpads
Look what just landed at your Library! The Playaway Launchpad is a secure learning tablet designed for children and pre-loaded with high-quality, ad-free learning apps that are both fun and educational Launchpad is durable enough to move from the hands of one little explorer to the next. Each tablet is already loaded with games on topics like math, dinosaurs, transportation, science, ABCs, colors and more, creating a new experience for your child with every Launchpad you check out. It features a durable cover that is perfect for play and learning. With no Internet connection and no camera, these tablets are hassle and worry-free. Launchpads are available for checkout to Adult West Babylon Public Library Card holders only.
Children's Room Display Case
Kids, do you have a fun, interesting, or unique collection that you would like to show off? Lego figures, cars, key chains, trolls or more? We would love to display your collection in the Children's Room. Displays change every month to feature different collections. Simply print a copy of our Policy and Application and return the completed application with required pictures to the Children's Department. You may see your collection  in our display case soon!