BIRD WATCHING
February 2021
Become a community explorer! Click here to download and print or stop by the Library to pick up your Local Bird Watching Guide filled with information on all local birds and how to spot them. Keep a log of all the birds you see and take pictures if you can! Send your drawings, pictures, and lists to childrens@wbpl.us to be featured on our website and help other community explorers see what's in their neighborhood! Open to all ages.
Special thanks to Belmont Lake State Park for helping us create our local bird guide!
Visit their website for more information!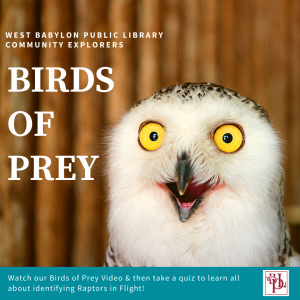 Click here to watch a video on Birds of Prey with the Sweetbriar Nature Center!