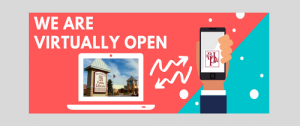 The Administration and Board of Trustees of the West Babylon Public Library considers the safety of staff and patrons to be its most important priority when making decisions regarding reopening of the Library building in relation to the ongoing coronavirus. Accordingly, the library will reopen in phases, following best practices, recommendations and guidelines established by county, state and federal agencies and officials. The reopening plan will be re-evaluated as needed in order to follow new and changing directives from government and health officials.
Phase 1- effective June 1, 2020
Employees will begin to return to work inside the building on June 1, 2020 at not more than 50% staffing levels as mandated by the state The return of Library items will be accepted. Returned items will be quarantined for 72 hours before being handled by staff to check-in and return to shelf. Reference and tech help will be conducted by telephone and chat. Library cards will be issued by mail. Library programs will continue to be scheduled and conducted online. The Library will use telephone calls, e-mail, social media, the library website and signage to communicate services and provide support to patrons. No public access to the building will occur during Phase 1.
Phase 2 – during the week of June 15, 2020
Library will begin providing contactless curbside delivery of materials. Request your items by calling the Library or by filling out the Curbside Pickup Request Form.
Please visit our virtual library and virtual programming pages. If you need assistance with any of our virtual services please chat with a Librarian right here Monday-Thursday from 10 am to 7 pm and Friday & Saturday from 10 am to 3:30 pm.
All in-library event programming and meetings through the month of June have been cancelled.