WBJHS Feature Article Assignment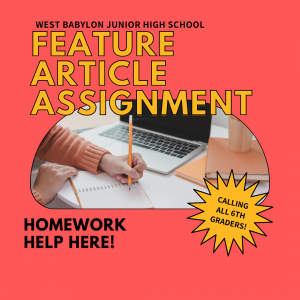 Looking for information for your Feature Article Assignment?
Check out these helpful links below! 
For information on how to obtain a West Babylon Public Library card click here.
Description of Assignment
Feature Article
Select a topic you care a great deal about. Gather facts and evidence for the topic of your choosing. You will create an informative article including text features such as headlines, sub-headings, text boxes, sidebars, pictures, captions, graphs/charts/maps, and quotes.
Types of Materials Needed
Books, magazines, accredited newspapers
Material Restrictions
No Wikipedia or social media sources
Other Information
Have fun. This is a topic you have chosen because you enjoy it. Do your best work and shine.

Homework Help: Interact with live tutors in reading/writing and more!
24-Hour Writing Lab: Submit essays and other forms of writing for constructive feedback.
Homework Send Question: Submit homework questions for expert guidance.
Research different topics for your assignment
Find Pictures on your subject
Citation Help: use their citation builder tool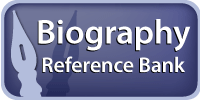 Online Biographies with full-text articles, page images, and abstracts

Full e-Books on different topics in nature and culture
Over 500 pictures to choose from
Magazines on different topics in nature and culture