*Please have the barcode on the back of your Library card available to access these tools. Certain tools may also require a Password. If you do not have a Password you will be prompted to create one by entering your chosen password twice.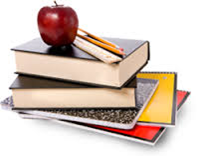 ---
*Biography Reference Center
More than 450,000 full-text biographies.
---
*Brainfuse HelpNow
Gain instant access to real tutors available to assist you with your homework needs. Brainfuse is available for students in Grades K-12. Tutors are available 7 days a week from 2 pm to 11 pm.
---
Britannica School
The go-to site for learning more about any subject—for all grades and all reading abilities—offering thousands of up-to-date, curated, and curriculum-relevant articles, images, videos, audio clips, primary sources, maps, research tools, recommended Web sites, and three separate databases—Elementary, Middle, or High.
---
Encyclopedia Britannica Online
Britannica Online offers all of the articles in the print set plus hundreds more. Explore atlases, interactive timelines, a dictionary, photos, and multimedia clips at age appropriate grade levels. Switch between the Reference Center and the Kids Edition with just the click of a mouse.
---
*Global Road Warrior
Access regularly updated travel and professional information, high-resolution maps and culture reports.
---
*History Reference Center
Comprehensive, full text, history reference database designed for secondary schools and undergraduate research. Features full text for 2,000 reference books, encyclopedias and non-fiction books.
---
Kids InfoBits
Find magazines articles, maps, flags, images and more for students grades K -5.
---
*Muzzy – Learn a Language
By employing a natural immersion approach, MUZZY surrounds the learner with visual, aural and contextual language. MUZZY was designed for the way children learn. Available in Spanish, French, Italian, Mandarin Chinese and great for English language learning too!
---
*National Geographic Kids
View Tutorial                                                                 
This resource will take children ages 6-14 on amazing adventures in science, nature, culture, archaeology and space. Browse National Geographic Kids magazines online, choose from 200 books to read and look at more than 500 photos that you can download for school projects.
---
*Opposing Viewpoints
Designed to provide students with a series of essays that present multiple sides of a current issue. The database provides 200 topics, each with an overview, point (argument) and counterpoint (opposing argument).
---
*Science Online
Science Online presents a broad range of scientific disciplines through extensive definitions, essays, diagrams, biographies and experiments.
---
*Something About the Author
Examine the lives and works of authors and illustrators for children and young adults.
---
World Book Online
The World Book Encyclopedia is the premier online general encyclopedia for schools and libraries. It includes more than 26,000 articles as well as more than 12,000 pictures and maps, and 7,000 links to editor-approved Web sites useful in helping students constructively explore topics further.