Virtual Programs: For Children
Click to view previously recorded virtual programs on YouTube and Facebook. All programs are virtual and will be held on Zoom or another similar platform.
Community Explorers: Birds of Prey Video
Mystery Crafts
Looking for a craft to do with your kids? Grab one of our Mystery Kits at our Drive-Thru Library – these can be past crafts or new ones – it's a surprise! Crafts are recommended for grades K-8 with help from a grown up. Let us know when you're in the parking lot by texting us at 631-213-7977, we will bring the mystery craft out to you! Supplies limited – West Babylon Card Holders Only.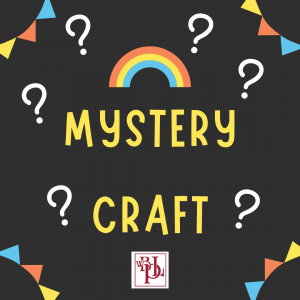 Tots Day In February: Love & Hearts Monster
Come join A Time for Kids, Inc. in this preschool family fun program as we celebrate love and hearts!  Activities include music, movement, fine and gross motor development and story telling! Families will be able to craft along and make their very own love monster!
Suggested materials:
Red, pink and white construction paper
Black marker
2 spoons or musical instruments
Storytime & Stretch: February
Gather your toddler, watch, and follow along on your own time with Miss Amy for some relaxation, stories & stretching.
Family Breakfast Date: Homemade Cinnamon Rolls
Breakfast is best, especially with family! Make delicious cinnamon rolls with icing! The Baking Coach provides supplies and an instructional video for you to watch together. Kits will be ready for pickup starting Tuesday, February 9. 1 kit/ registration per family.
Kids Paint Night: Puppy Hearts
Winter is here! Dress in your warmest pajamas and follow along with a painting instructional video from Miss Kathy. She will go step by step to help you create a loveable fluffy puppy masterpiece. Registration is underway. Kits will be ready for pickup starting Tuesday, February 9.
Pt. 1
Pt.2
Friday, March 5, 2021
Baby and Toddler Signs
10-10:30 am
Learn sign language in a meaningful and playful way with Registered and Licensed Occupational Therapist and Certified Signing Time Instructor, Lisamarie Curley. This program is offered virtually through Zoom. Registration is underway.