Especially for Older Adults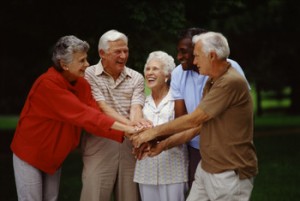 Older Adult Programming
Every month the Library offers a variety of events, programs and workshops geared toward our senior patrons. These include health related workshops, fitness classes, financial seminars, and more. Please consult our monthly newsletter for specific programs, dates, and times. You can also call the Library at 631-669-5445 or email us at info@wbpl.us for more information.
---
Important Resources

Healthcare and Nutrition from Home
Alzherimer's and Dementia Resources:
Alzheimer's Association Caregiver Support Line: The help line is available around the clock, 24/7, 365 days a year. Through this free service, specialists and master's-level clinicians offer confidential support to people living with the disease, caregivers, families, and the public. Call 1-800-272-3400 for assistance.
Willing Hearts, Helpful Hands: Willing Hearts, Helpful Hands is an innovative community program serving family caregivers in Queens, Nassau, and Suffolk Counties by connecting them with a circle of help that includes trained volunteers who provide an array of respite services. Please call 718-289-2137 or visit the Willing Hearts, Helpful Hands website for more information.
Covid-19 Resources: 
Health and Welfare Council of Long Island: The Health and Welfare Council of Long Island website Includes a wide variety of useful information and guidance for individuals and organizations.
New York State Mental Health Support Line: The Emotional Support Helpline provides free and confidential support, helping callers experiencing increased anxiety due to the coronavirus emergency. The helpline is staffed by volunteers, including mental health professionals, who have received training in crisis counseling. Please call 1-844-863-9314 to speak to someone.
Novel Coronavirus Hotline: Sponsored by the NY State Department of Health, call 888-364-3065 to request a test. Specific criteria must be met.
Suffolk County Text Alerts: Text CovidSuffolk (one word) to 67283 for updates via text.
Suffolk 311: Call 311, a 24/7 hotline that will answer questions
Medicaid Enrollment Assistance: The Nassau-Suffolk Hospital Council is providing facilitated enrollers, trained by the NY State Department of Health, to assist the aged, blind, and disabled populations in enrolling for the following programs over the phone. Call 631-656-9783 for assistance.
Medicaid
Medicaid Buy-in for Working People with Disabilities (MBI-WPD)
Medicaid Spend-down
Medicare Savings (MSP)
Medicaid for Institutional Care in a Nursing Home
Mental Health Resources:
National Alliance on Mental Illness (NAMI): NAMI is here to ensure that no one is alone on their mental health journey. Call 1-800-950-NAMI or visit the NAMI website for more information.
New York State Office of Mental Health (OMH): The OMH promotes the mental health of all New Yorkers, with a particular focus on providing hope and recovery for adults with serious mental illness and children with serious emotional disturbances. If you need help, please call 1-800-597-8481 or visit the OMH website for more information.
Senior Advocate: Call 631-853-8200 to speak to a representative from the Suffolk County Office of the Aging for assistance with Medicaid, Senior ID Cards, food stamps, and re-certifications.
Supplemental Nutrition Assistance Program (SNAP): The Health and Wellfare Council of Long Island knows that food insecurity is a rapidly increasing emergent need at this time. You may be eligible for SNAP, which can help you cover food costs. Please call Carolina Flores-Cruz at HWCLI at 631-697-1124 for more information.
Town of Babylon Senior Meals: The Town's Senior Meals program continues and the food pantry is open. If you are a senior having difficulty food shopping and are facing a shortage, please call 631-464-4340 for help.
Veteran Resources:
Northport Veterans Affairs Medical Center: The Northport VA serves the healthcare needs of veterans living in the Long Island Area. Please call 631-261-4400 or visit the Northport VA website for more information.
Veteran's Caregivers Support Line: The VA's National Caregiver Support Line (CSL) serves as a primary resource/referral center to assist caregivers, veterans, and others seeking caregiver information. The VA's CSL has licensed, caring professionals standing by Monday-Friday, 8 am-8 pm. Call 1-855-260-3274 for more information.
---
Older Adult Services
Home Connect
If you or someone you know is a West Babylon resident and is unable to get to the Library, we offer a service that delivers standard, 3 week loan items to your home. Call the Library at 631-669-5445 or email us at info@wbpl.us for more information.
Senior Scene
Keep up-to-date with what's happening for seniors at our Library by subscribing to our new Senior Scene eNewsletter. Have Library news delivered to you via email with a few clicks of the mouse.
Talking Books: The National Library Service (NLS) for the Blind and Print Disabled is a free braille and talking book library service for people with temporary or permanent low vision, blindness, or a physical disability that prevents them from reading or holding the printed page. Through a national network of cooperating libraries, NLS circulates books and magazines in braille or audio formats, delivered by postage-free mail or instantly downloadable. Please call the Library at 631-669-5445 or email us at info@wbpl.us for more information on this program. Certain criteria must be met.
Senior Bulletin Board
The Library receives flyers for area programs, stop by and keep up to date on local events.
Large Print Collection
The Library offers a wide variety of Fiction, Non-Fiction and Biographies in large print. The print is larger than the standard print found in most books and is easier to read.
---
Assistance Aids
Enlargment Instructions for eReaders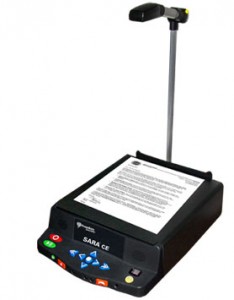 Have you been using your eReader, such as a Nook, Kindle, or iPad, to read books using our Libby/Overdrive services? Learn how to enlarge the text on your device with our Enlargement Instructions to enhance your reading enjoyment.
Scan And Listen
The Library now has a new scan and listen device due to a generous donation from the West Babylon Lions Club. This device will scan and read books aloud for those who are visually impaired or have trouble holding books or reading materials. Speak with a Reference Librarian at 631-669-5445 to be trained and reserve the machine.

---
JAWS Reading Software
The Library offers the screen reading software JAWS due to a generous donation from the West Babylon Lions Club. The JAWS software assists those with vision loss by reading aloud from web pages and Microsoft Office programs. To request use of the JAWS software, please inquire at the Reference Desk.