Early Literacy Flyer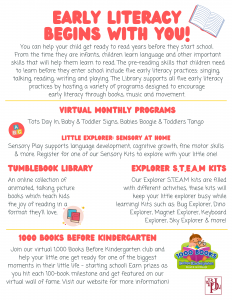 Little Explorer: Sensory at Home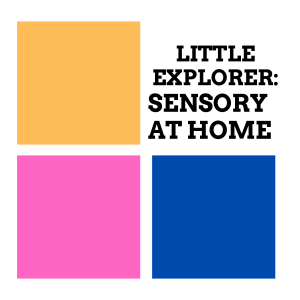 LITTLE EXPLORER: SENSORY AT HOME
March 8-11: foam paints WBJ06
April 6-10: modeling foam
1-4 years
Did you know that sensory play supports language development, cognitive growth, fine and gross motor skills, problem solving skills, and social interaction? Register for one of our Sensory Kits to take home and explore with your little one!
Every Child Ready to Read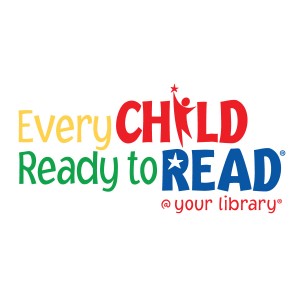 Early literacy begins with you! You can help your child get ready to read years before they start school. From the time they are infants, children learn language and other important skills that will help them learn to read. The pre-reading skills that children need to learn before they enter school include five early literacy practices: singing, talking, reading, writing and playing. Take every chance you get to read with your children, say nursery rhymes and sing songs! Keep it light, keep it fun and read a little bit every day. The Library supports all five early literacy practices by hosting a variety of programs designed to encourage early literacy through books, music and movement. We also provide an extensive collection of books and media materials to help children become successful readers.
Related Online Resources