The In Be-Tweens: Grades 4-8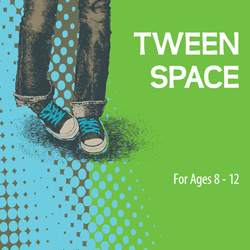 Welcome to our Tween Page! We know you aren't a kid anymore, and slowly making your way towards and/or through middle school. This is a space just for you!
Please check out our upcoming Tween programs, book displays and book reviews! These "TAG'ed" book reviews are brought to you by our Junior Teen Advisory Group members (grades 6-8) and other members of our West Babylon community who have volunteered and completed our Read & Review forms. If you love to volunteer and attend West Babylon Junior/ Senior High school, visit our Volunteer page to find out more about helping out at your Library!
Happy Holidays!
Check out what's going on for the Month of December! 

Featured Programs
TWEEN GINGERBREAD HOUSE WARS
It's Gingerbread House vs. Gingerbread House in this tasty competition on Wednesday, December 4, from 7-8 pm. Brainstorm and decorate your very own one of a kind Gingerbread House to be judged! Open to grades 4-7. Registration is underway.
TWEEN: 2020 PARTY!
Ring in 2020 with Chef Rob on Monday December 23, from 6-7 pm! Tweens will get to make and decorate their own snowman cookies, play games and celebrate New Year's at the Library! Open to grades 4-7. Registration is underway.
Tween Book Display
BE COOL! READ A BOOK
Be cool but stay warm inside with one of these winter-themed reads!
Tween Reads for Grades 4-8
Tween Book Reviews
<<<<<<<<<<WARNING: MAY CONTAIN SOME SPOILERS!>>>>>>>>>>
Artemis Fowl by Eoin Colfer, Review by Thomas F.

Summary: When a twelve-year-old evil genius tries to restore his family fortune by capturing a fairy and demanding a ransom in gold, the fairies fight back with magic, technology, and a particularly nasty troll.

Review: "I enjoyed this book because there is action, suspense, emotion and a hardcore conflict. I like when Captain Holly Short got her magic book back and then used it to heal Butler so they could live. I would recommend it to both boys and girls in 5th to 10th grade."

Kickoff by Donna King, Review by M. Murray 
Summary: The only thing American Tyra Fraser likes about her new school in Yorkshire, England is getting to play for the school's soccer team. But Tyra's ability on the field brings trouble in the form of a jealous teammate who tries to stop Tyra from taking her place as the school's top player.

Review:" I liked this book becasue football is my favorite sport and I've experienced moving to a new place and wanting to go back home. Plus I like England! My favorite part of the story was when Tyra thought it was time to go back to Florida, her home, but her dad announced they'd stay in England a little longer. This book is for anyone that wants to fit in, loves football and is around 10 years old and up, boy or girl – both should read it!"